Get Rid Of
Forehead Lines
Crow's Feet
Lip Lines
Scowl Lines
And Restore Your Youthful Glow!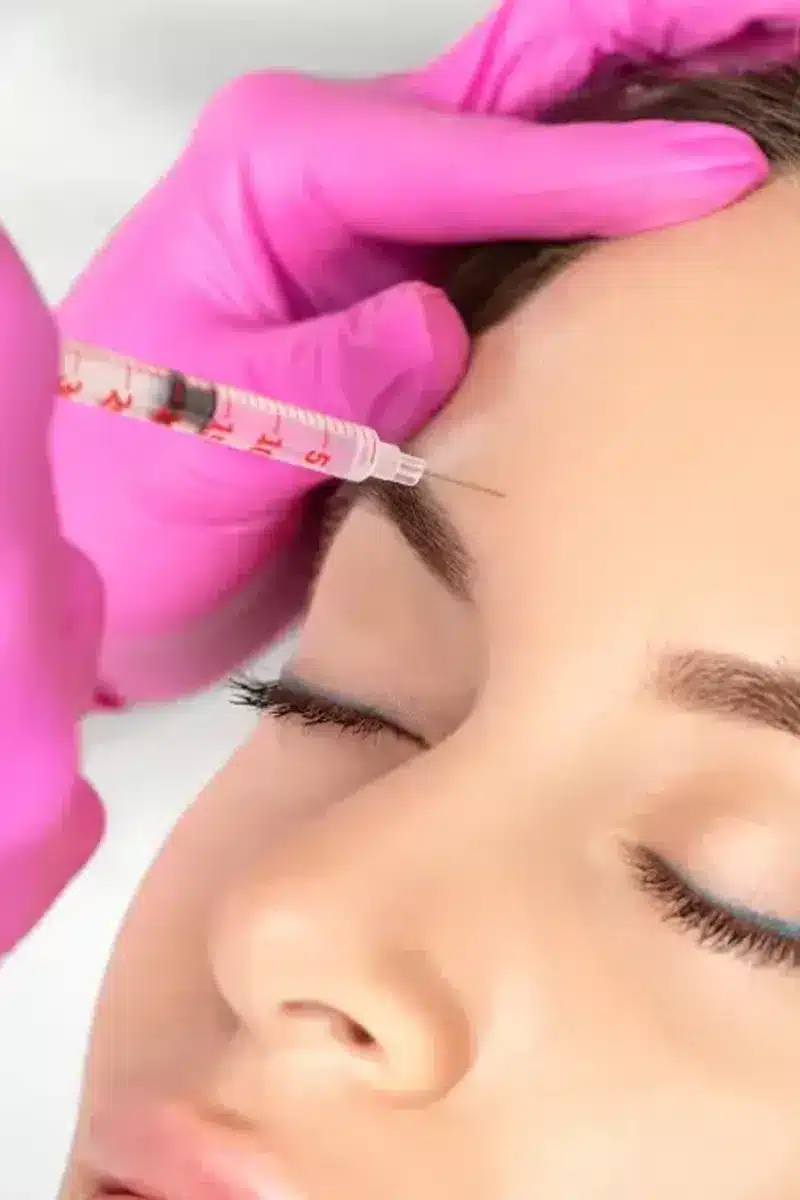 Why Is Botox and Dysport For Me?
Restore Your Youthful Glow: Erase fine lines and wrinkles, revealing a rejuvenated and natural look. Botox and Dysport are FDA-approved treatments that effectively reduce signs of aging, making you look and feel years younger.
Fast and Convenient: With treatments lasting only 15-30 minutes, you can return to your daily activities in no time, with a refreshed and radiant look.
Long-Lasting Results: Experience the long-lasting effects of your treatment for 2-6 months. Enjoy the additional benefits of improved skin tone, reduced wrinkle appearance, enhanced facial contours, and smooth skin texture during this timeframe.
Safety You Can Trust: Botox and Dysport procedures are backed by rigorous clinical testing, making them reliable, safe choices for enhancing your appearance.
Versatile Treatments: Botox and Dysport treatments go beyond targeting crow's feet and forehead wrinkles. They can also be used to treat neck bands, chin dimples, excessive sweating, and even provide relief from migraines.
Book Now
How It Works
How They Work: Botox and Dysport are treatments that soften wrinkles by temporarily relaxing your facial muscles for a smoothing effect. Regular sessions help keep your skin looking youthful and smooth.
What Are The Differences between Botox and Dysport: Both essentially achieve the same results, with the main difference between Botox and Dysport is the formulation. Both options are safe, and effective treatment options.
Treatment Sessions and Frequency: Typically, a single Botox or Dysport treatment session is enough to start noticing improvements. The results from one treatment are expected to last around 2-6 months.
Book Now
Rollover or tap to flip boxes below
Forehead Lines
15 MINUTES
$11/unit (12- 40 units)
Botox and Dysport work wonders in reducing or even eliminating forehead wrinkles for a youthful glow. For the best results, we recommend treating forehead wrinkles and the "11's" eyebrow wrinkles together for a youthful look you'll love.
Book Now
'11' Eyebrow / Scowl Lines
15 MINUTES
$11/unit (15-30 units)
Easily treat these eyebrow wrinkles for a younger and refreshed look! Botox for wrinkles between eyebrows is a fast treatment that smooths and removes "11's" lines that appear between eyebrows.
Book Now
Bunny Lines
15 MINUTES
$11/unit (6-12 units)
Wrinkles on the bridge of the nose, nicknamed "bunny lines," can easily be removed and reduced for a smoother, younger look. Our Scottsdale Botox or Dysport is best used to treat and prevent bunny lines to help you achieve a refreshed look.
Book Now
Brow Lift
15 MINUTES
$11/unit (4-10 units)
Using Botox or Dysport can help lift the eyebrows, making you look more vibrant and alert.. Let us accentuate those gorgeous eyes you have with a brow lift!
Book Now
Crow's Feet
15 MINUTES
$11/unit (12-30units)
Crow's feet are fine lines on the outer corners of the eyes. With the restorative power of Botox or Dysport, bring back that youthful sparkle in your eyes.
Book Now
Lip Lines / Lip Flip
15 MINUTES
$11/unit (4-8 units)
Soften and smooth your smile by reducing lip lines with Botox and Dysport. Botox for Lip Lines is a fast and effective way of treating lip lines. We can also give you a Lip Flip by injecting Botox/Dysport into the lip line for a flipped up lip.
Book Now
Dimpled Chin
$11/unit (6-8 units)
Botox and Dysport are effective treatments that can produce a soft, youthful appearance on the chin. This will reduce any dimples or "orange peel" look to give you a refreshed and relaxed gaze.
Book Now
Platysma (Vertical Neck Cords)
15 MINUTES
$11/unit (8-12 units)
The platysma muscles are the vertical bands that run down your neck, which become more visible when you clench your jaw. This condition can be significantly improved with our Scottsdale Botox / Dysport treatments – also known as the Nefertiti Neck Lift – that reduces wrinkles and smooths out the contours of the neck. While results may show immediately after treatment, it may take a few weeks for its full effect to appear in all its glory!
Book Now
Hyperhidrosis (Excessive Sweating)
15 MINUTES
$11/unit (40-100 units)
Botox and Dysport offer a lasting solution to excessive sweating. With these treatments, you can stop excessive sweating in areas such as your palms, feet soles, and underarms.
Book Now
Face slimming
15 MINUTES
$11/unit (30-60 units)
Do you find yourself clenching or grinding your teeth? Botox and Dysport can be used to relax the masseter muscle, resulting in enhanced TMJ symptoms as well as a slimmed face with larger doses. It's one of the most efficient methods to get that sweet heart-shaped look!
Book Now
Have something else in mind? There are many ways our Scottsdale Botox and Dysport services can be used. At Esthetic Finesse, we provide a one-on-one, personalized environment to help you achieve your desired look and love your results!
Book A Free Consultation Today!

Book Now